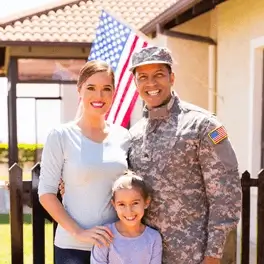 For service members and veterans
Surviving spouses also eligible
Up to 100% financing
VA loans are guaranteed by U.S. Department of Veteran Affairs. VA home loan is a benefit available to American veterans, people on active duty, and National Guard and reserve members. It is also available to surviving spouses.
VA loans can be used to purchase a home with zero down payment or refinance with or without cash-out up to 100% of home value. Eligibility for VA loan is described here.
U.S. Department of Veteran Affairs charges a loan funding fee for the guarantee. Veterans receiving service-related disability compensation and surviving spouses of veterans who died in service or from a service-connected disability do not pay the funding fee. The amount of funding fee depends on several factors, please see the latest VA funding fee chart for details.
About Us | Reviews | Insights | Contact Us